Accreditation
Dear Brothers and Sisters,

Assalamu alaikum warahmatullahi wabarakatuhu

Mishkah University, a non-profit and tax exempt institution, specializes in teaching authentic Islamic knowledge online both in English and in Arabic. Established 11 years ago, Mishkah strives to make middle-ground Islamic knowledge accessible around the world, through a variety of programs. You can learn more about these programs here on our web site.
To continue achieving its goals, Mishkah University seeks your cooperation and help. Mishkah University is working to become the first accredited Islamic online university in the United States. We need to raise funds which will be spent on the accreditation expenses.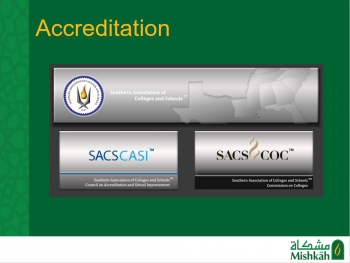 We pray to Allah to make your contributions a continuous charity where you earn the reward of all those who learn at the University and those who learn from them wherever they may go, in the east or the west, Ameen.
Wassalamu alaikum warahmatullahi wabarakatuhu


Option 3: Donate with Check or Money Order
If you'd like to donate through check or money order, please make it out to Mishkah University and send it to the following address:
Mishkah University
3821 Maryweather Lane, Suite 102 Wesley Chapel, FL 33544, USA.
Option 4: Search to see if your employer will match your donation