My Dear Brothers and Sisters,
Assalamu alaikum warahmatullahi wabarakatuhu
This is my message to you, to congratulate you all for the blessed month of Ramadan. I pray to Allah from my heart to make us all among the accepted and to free us from the hell fire in this noble month.
I al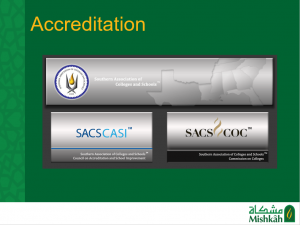 so wish to inform you that Mishkah University has started the process of accreditation in the United States.  With the grace and help of Allah, a team of experts in the field that was dedicated to achieving this goal has succeeded in preparing the University both administratively and academically for this purpose.
Mishkah University, a non-profit and tax exempt institution, specializes in teaching authentic Islamic knowledge online both in English and in Arabic. Since it was established 10 years ago, Mishkah strives to make middle ground Islamic knowledge accessible around the world, with a variety of programs. You can learn more about these programs here on our web site.
To continue achieving its goals, Mishkah University seeks your cooperation and help. We currently need to raise $1,000,0000 – half of it will be spent on repaying an Islamic loan that was used to purchase our headquarter building. The other half is for the accreditation preparation expenses, so that Mishkah University becomes the first accredited Islamic online university in the United States.
We pray to Allah to make your contributions a continuous charity where you get the reward of all those who learn in the University and those who learn from them wherever they go in the east or the west.
May Allah, bless you and accept your good deeds and grant you the guiding light that will precede you and on your rights in the hereafter, Ameen.
Wassalamu alaikum warahmatullahi wabarakatuhu
Your brother who loves you in Allah's sake and who is praying for you in secret
The Chairman of the Board of Founders of the Islamic University of North America, Mishkah
Dr. Salah Assawy
إلى إخوتي وأخواتي
السلام عليكم ورحمة الله وبركاته 
أحمد إليكم الله عز وجل، واصلي وأسلم على نبينا محمد صلى الله عليه وسلم، وأسأل الله لي ولكم التوفيق والسداد
رسالتي هذه لتهنئكم بحلول شهر رمضان، ولتدعوا الله لكم من الأعماق أن يجعلنا وإياكم في هذا الشهر الكريم من المقبولين، ومن عتقائه من النار أجمعين
ثم لتبشركم بأن جامعة مشكاة قد دخلت الآن بفضل الله عز وجل في مرحلة معادلة شهاداتها وفقا لقوانين المعادلة في الولايات المتحدة، وقد تهيأ لها فريق من الخبراء المتفرغين المنقطعين لمتابعة هذا الملف الكبير بفضل من الله عز وجل، وقد استطاع أن يهيئ الجامعة أكاديميا وإداريا وفنيا للتقدم لهذه الخطوة الكبيرة
والجامعة كما تعلمون مؤسسة تعليمية غير ربحية، تتمتع بإعفاء ضريبي، وتعنى بتدريس العلوم الإسلامية (أون لاين) باللغتين العربية والإنكليزية عبر العالم، في إطار الوسطية والربانية، ولديها ومنذ تأسيسها قبل عشرة أعوام، برامج كثيرة ومتنوعة يمكن مراجعتها على موقع الجامعة .
 وهي تتطلع إلى تعاونكم معها لتحقيق مشروعها الواعد بتأمين مبلغ مليون دولار لها: نصفه لسداد قرض حسن لمبناها الإداري الذي حصلت عليه مؤخرا، ونصفه الآخر لتوفير مصروفات إعداد الجامعة لتصبح أولى الجامعات الإسلامية (أون لاين) التي تعادل شهاداتها رسميا داخل الولايات المتحدة الأمريكية
ونرجو أن يكون ذلك لكم صدقة جارية تؤجرون عليها بعدد من يتعلمون في هذه الجامعة أو من يتعلمون منهم حيثما شرقوا أو غربوا
 بارك الله فيكم، وتقبل ذلك منكم بقبول حسن، وجعله نورا يسعى بين أيديكم وبأيمانكم يوم القيامة اللهم آمين
 والسلام عليكم ورحمة الله وبركاته 
محبكم والداعي لكم بظهر الغيب
رئيس المجلس التأسيسي للجامعة الإسلامية في أمريكا الشمالية، مشكاة
د. صلاح الصاوي