Accreditation
Mishkah University has begun preparations for the process needed to apply for accreditation. The University intends to initiate the application process with the Southern Association of Colleges and Schools Commission on Colleges (SACSCOC) and aims to be the first Islamic online university to receive accreditation. In addition,
the commission of Florida Department of Education accepted the Islamic University
of North America (Mishkah University)'s Affidavit as having complied with Section 1005.06(1)(f), Florida Statutes to religious institutions.
In January 2019, the University established an agreement for academic and
educational collaboration with Ez-Zitouna University in Tunisia.

In March 2009, the University established an agreement for academic
and educational collaboration with Al-Jinan University in Tripoli, Lebanon.

Mishkah is a 501(c)(3) nonprofit organization with Federal Tax ID 14-1948738. All donations are tax-deductible.
If you have any questions or comments regarding donations, please email finance@mishkahu.com or call 813-575-4900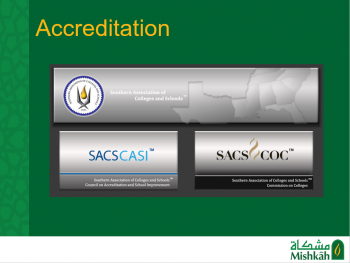 We pray to Allah to make your contributions a continuous charity where you earn the reward of all those who learn at the University and those who learn from them wherever they may go, in the east or the west, Ameen.
Option 3: Donate with Check or Money Order
If you'd like to donate through check or money order, please make it out to Mishkah University and send it to the following address:
Mishkah University
5445 Almeda Rd Suite 401 Houston, TX 77004, USA.
Option 4: Search to see if your employer will match your donation